Outdated browser detected
You are using an unsupported browser and may not experience the site, or shop online as intended. We recommend you
upgrade
Fisher & Paykel partners with Chef Ludo Lefebvre
Chef Ludo Lefebvre, one of the most innovative and influential chefs in the world, and Fisher & Paykel, one the most innovative manufacturers of kitchen appliances in the world, have come together to inspire people everywhere to push their limits, their creativity and their success in the kitchen.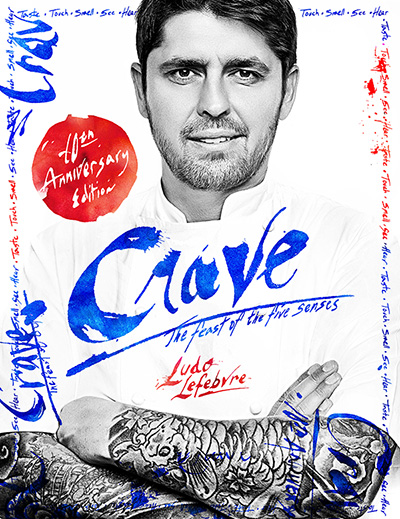 Chef Ludo's latest cookbook - Crave
Chef Ludo Lefebvre is one of the most influential chefs in the United States, and is well known for his pioneering and revolutionary work in the culinary industry.
Before introducing his wildly popular popup event, LudoBites, in Los Angeles, and opening a fried chicken food concept within STAPLES Center™ called LudoBird, Chef Ludo made a name for himself as the executive chef at L'Orangerie and Bastide, two of the city's most famous and luxurious restaurants. Here, he quickly established a reputation for his ability to combine Old World technique and New World imagination in innovative dishes to tantalize diners' taste buds with subtly exotic flavors.
Ludo is now being credited for changing the game in Los Angeles modern fine dining scene with Trois Mec, his first brick and mortar restaurant which opened in April 2013. Trois Mec has earned 4 stars from both Los Angeles Magazine and LA Weekly, and was named Esquire Magazine's Best New Restaurant List for 2013.
In August, Chef Ludo opened his sophomore restaurant concept Petit Trois introducing a new style of dining coined "Bar a la Carte" based on the traditional French bar experience where one drops by for a plate of food and a cocktail or two. To note, Petit Trois accepts no reservations, a complete juxtaposition to neighboring Trois Mec where every seat is sold online.
Ludo has been named one of the "World's 50 Greatest Chefs" by Relais & Chateaux and was nominated by the James Beard Foundation for a "Rising Star Chef" Award.
In January 2013, Ludo joined Anthony Bourdain and Nigella Lawson as judge/mentor on ABC's The Taste, and was named the "break-out star" of the show by the New York Times. Ludo returned for season 2 alongside Anthony Bourdain, Nigella Lawson and Marcus Samuelsson and was pronounced the series winner. The Taste has been renewed for a 3rd season and Ludo will be returning to the hit show as the winning mentor.