More cooking flexibility with five spacious heating zones of different sizes, including two dual elements.
Easy to clean flat ceramic surface
With simple dial controls
The feature images used on this page are examples to demonstrate the product benefits and may differ slightly from the actual product.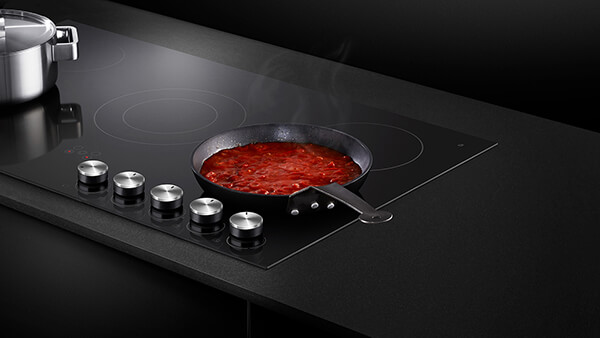 Even heating
Powerful ribbon elements heat up quickly and create an even distribution of heat for perfect results – whether you're searing meat or simmering sauces.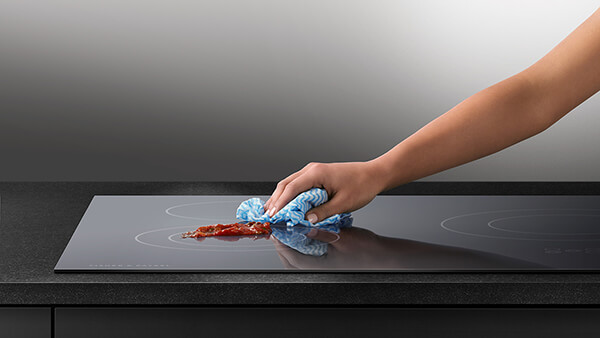 BEAUTIFUL TO USE
Easy to clean
With its strong ceramic surface, your electric cooktop is designed to look shiny and new for years to come. It just needs a quick wipe after cooking – saving you time in the kitchen.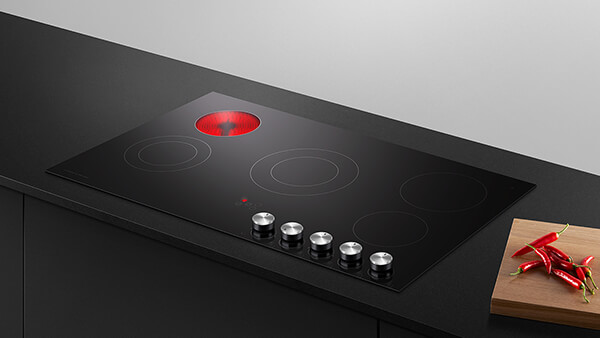 BEAUTIFUL TO USE
Safe and sound
Once your cooktop is turned off, indicator lights glow until the surface is safe to touch.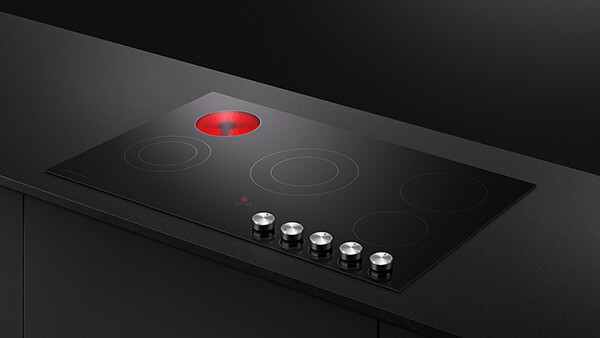 DESIGNED TO FIT
Sized to suit
Fisher & Paykel electric cooktops come in a range of sizes to suit every kind of kitchen. Because they're perfectly flat and cool down fast, they can be used as an extension of your preparation surface when they're switched off.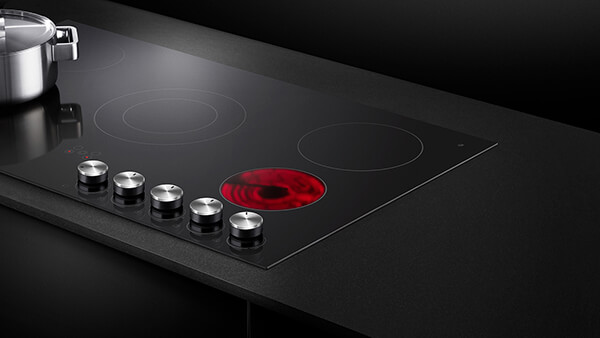 BEAUTIFUL TO USE
Simple to use
Classic dial controls make this cooktop a breeze to use. No complicated buttons or switches – just turn your dial to the desired temperature and you're ready to cook.
DESIGNED TO FIT
Designed to match
The electric ceramic series is designed to match the rest of Fisher & Paykel's kitchen appliance family, with a stylish frameless design, sleek ceramic glass surface and intuitive controls.
Cleaning
| Cleaning Attributes | Value |
| --- | --- |
| Flat easy clean glass surface | |
Performance
| Performance Attributes | Value |
| --- | --- |
| Dual colour display | |
| Hi-light high speed ribbon elements | |
Power requirements
| Power requirements Attributes | Value |
| --- | --- |
| Amperage | 36.5A |
| Supply voltage | 230 - 240V |
Product dimensions
| Product dimensions Attributes | Value |
| --- | --- |
| Depth | 530mm |
| Height | 59mm |
| Width | 900mm |
Safety
| Safety Attributes | Value |
| --- | --- |
| Surface hot indicators | |
| Temperature limiters | |
Warranty
| Warranty Attributes | Value |
| --- | --- |
| Parts and labour | 2 years |
Zone ratings
| Zone ratings Attributes | Value |
| --- | --- |
| Centre | 2500W/1100W |
| Left front | 1700W/700W |
| Left rear | 1800W |
| Right front | 1200W |
| Right rear | 1200W |
Zones
| Zones Attributes | Value |
| --- | --- |
| Number of elements | 5 |