The Costa Mesa Experience Center
Be inspired by a meticulously appointed showcase of luxury design and beautifully-crafted kitchen appliances.
Your dedicated expert will guide you through the options to help simplify the planning of your dream kitchen. Take your time exploring the Center, or book your place at a fun, informative cooking demonstration to help you make the right choices for your next kitchen project.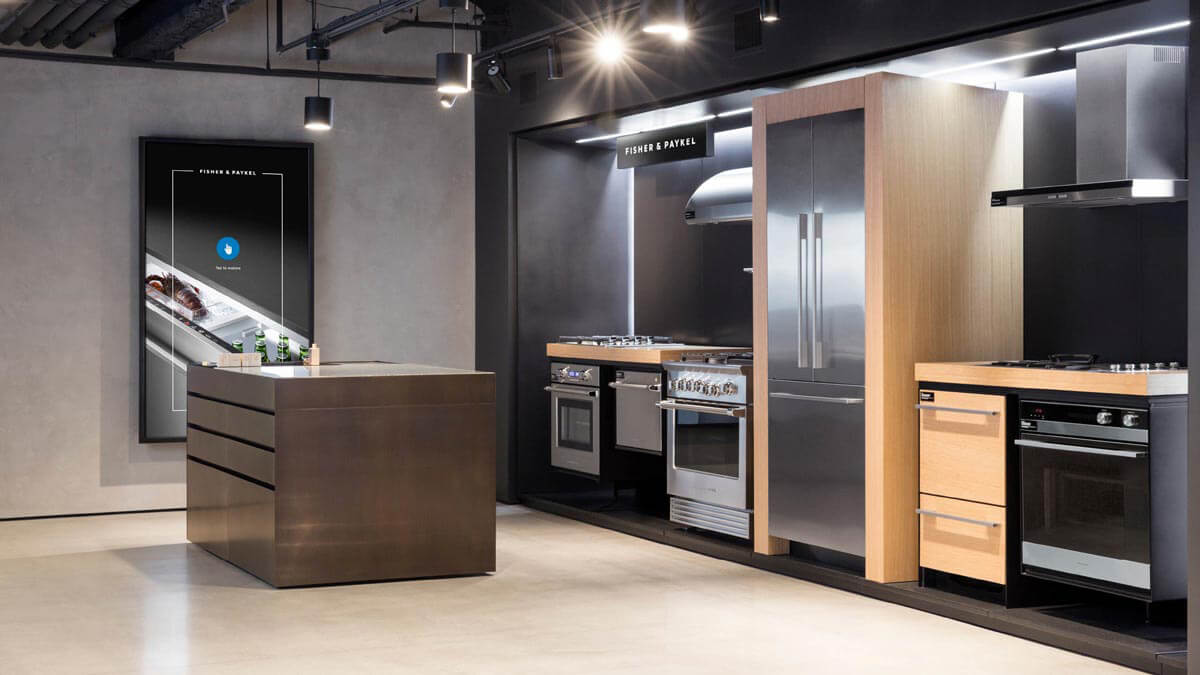 Build The Perfect Kitchen
Get hands on with our range of Fisher & Paykel and DCS appliances – walk in or register for a kitchen appliance consultation with our experts.
Get in touch
Cooking Demonstrations
See how chefs make the most of a fully equipped Fisher & Paykel kitchen at this fun and informative cooking experience. Hosted by professional chefs, you will see the latest cooking technologies come to life, share a Q&A discussion with our Experience Centre staff, and enjoy a meal in our Social Kitchen.
Book Your Place
Mastery of Temperature
The best kitchens are those that give the chef absolute control over heat at every temperature to achieve the perfect flavour and texture in a dish.  Learn how with Fisher & Paykel.
Find us
695 Town Center Drive, Suite 180, Costa Mesa, CA 92626
Parking
Self-parking is available at the Park Tower, 660 Town Center Drive. Please show your ticket to our team for validation.
Opening Hours
Open
Monday – Friday: 9:00am – 5:00pm
Closed
December 23, 2022 till January 3, 2023
Public holidays
Contact Us
Costa Mesa Experience Center
Phone:
Email:
Ria Rueda
Experience Center Manager
Phone:
Email:
Ryan Weber
Product Specialist
Phone:
Email:
FAQ
Should I Make An Appointment?
Drop-ins are welcome at any time during opening hours, or you can book a free appliance consultation or cooking demonstration by calling our friendly team on (855) 372-1934.
What Can I Expect At The Costa Mesa Experience Center?
Explore our inspirational Experience Center, with live appliances and learning tools including touch-screen monitors and iPads loaded with product information. Product specialists are on hand to guide you as needed. You can also book your place at a free cooking demonstration or an appliance consultation by calling our friendly team on (855) 372-1934.
Can I Buy Appliances at the Experience Center?
No, but if you would like to make a purchase, we can supply you with a list of retailers near you.
What Appliances do you have at the Experience Center?
For information on the appliances currently on display or live in the Center, please call us on (855) 372-1934.
Arrange a Visit
Fisher & Paykel Enquiry Form
Thank you for your interest in Fisher and Paykel. Please supply your contact details and a representative from our experience center will contact you to arrange a time and date for your personalized product consultation.