Minimal Style
Complement a suite of Minimal appliances with companion appliances that celebrate the same singular aesthetic. Designed to blend seamlessly into the kitchen through subtle textural and tonal material contrasts.
View Minimal
What is Minimal Style?
Contemporary Style
Our hallmark style, Contemporary companion appliances feature clean lines and complementary tonal contrasts designed to match the aesthetic of all appliances across the Contemporary style.
View Contemporary
What is Contemporary Style?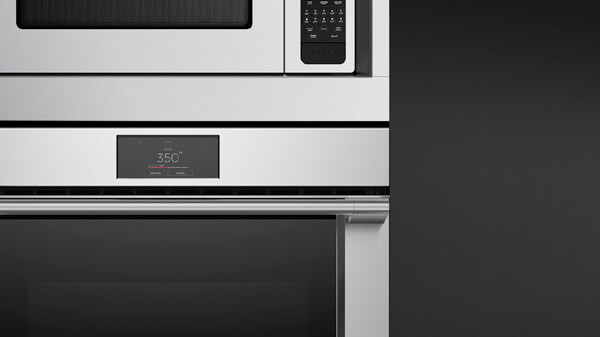 Professional Style
Professional style companion appliances are distinctive and bold, the perfect interpretation of the commercial kitchen for the home chef. With stainless steel construction, they are designed to match.
View Professional
What is Professional Style?
Explore the
Performance Story
Achieve results to rival the world's finest kitchens with a full suite of companion appliances, delivering specialised functionality and extending the design aesthetic of the style throughout the kitchen.
Design Freedom
Modern kitchens have become a place of expression, where innovative design is creating more beautiful and truly bespoke spaces.
The best appliances are those that provide options for customisation, and the freedom to create truly cohesive designs unencumbered by the restrictions of size, placement and format.
Fisher & Paykel appliances are crafted to deliver complete design freedom with appliances that are designed to fit and create beautifully considered kitchens.
Layout Options
Modular distributed appliances allow you to put the kitchen design first, to truly realise your own personal aesthetic vision.
Curate the perfect suite of cooking appliances with continuity and combination in mind. Sized to fit and designed to match, companion products come together with Fisher & Paykel cooking appliances to create the ultimate kitchen solution.
Grid
Place cooking appliances in a grid pattern for a combination that brings a considered look to the kitchen and makes the best use of vertical space.
Grid layouts provide exceptional functionality for cooking multiple dishes simultaneously, making it quick and easy to move dishes between appliances – perfect when catering for large groups.
Trim kits and warming drawers add balance and symmetry to the layout, while extending the signature design elements of the style.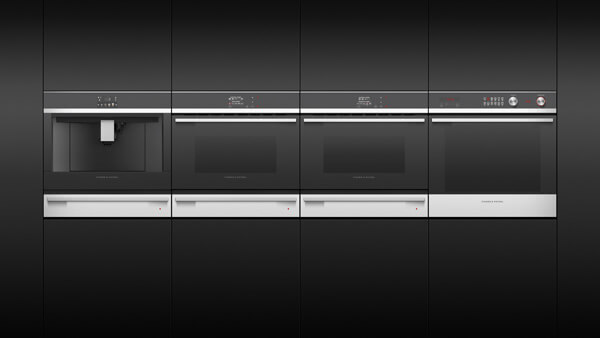 Side-By-Side
With design elements that align perfectly to create horizontal flow, side-by-side configurations can make a kitchen look longer and more spacious.
Place conventional and steam ovens side-by-side and combine with microwave and coffee-making appliances for a cooking suite without compromise. The ideal solution for those who wish to incorporate multiple warming drawers for entertaining.
Stack
Compact homes have become a common feature of modern life, where considered design ensures every space is optimised to give exceptional usability in a small footprint.
Stacking cooking appliances makes the best use of vertical space that may otherwise be panelled in a larger kitchen.
The vertical alignment creates the illusion of height in the kitchen, and gives ample space for appliances to fit into cabinetry nearby, extending the design aesthetic of the style.