Our Changing Cities
Design for a changing world
Cities. For more and more of us the future has so much to do with them. By 2050, it's estimated that an additional 2.5 billion people will be living in them – that's two out of every three people. And, despite the coronavirus pandemic casting a shadow across normal life, the trend of urban growth is expected to continue. Just as growing cities are a mega-trend, megacities are a global trend.
As we design products for a changing world, we're continually looking to grow awareness of the drivers of change, and part of what makes cities so endlessly fascinating is their ability to bring a new context to our design thinking.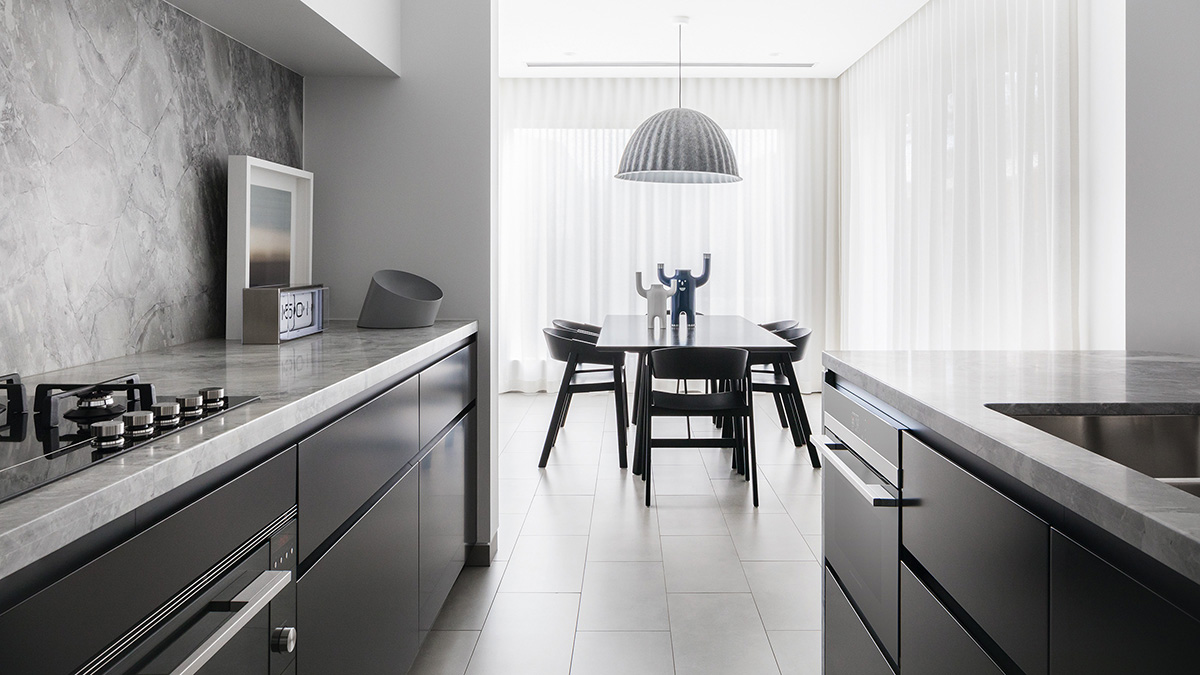 Designer: Baldwin and Bagnall
Photographer: Katherine Lu
Location: Sydney, Australia
Dumb question, right? It's just a whole bunch of people living near to each other. But cities are different things to different people. And there are better ways to describe these great agglomerations. For instance, the US urbanist Ed Glaeser describes them as the "absence of physical space between human beings" – the closeness enabling the "flow of goods and ideas, and the use of shared urban joys, including museums, parks and restaurants".
"Richard Sennett, a senior advisor to the UN Program on Climate Change and Cities, has used two French words to define the functions of the city. The ville is the built environment, the cité is the character of life. "The built environment is one thing, how people dwell in it another."
Architect: Brad Swartz Architects. Photography: Katherine Lu. Sydney, Australia.
And Jane Jacobs, author of the 1961 classic The Death and Life of Great American Cities, described that localised portion of the city, the neighbourhood, as "not only an association of buildings but also a network of social relationships, an environment where the feelings and the sympathy can flourish."
Defining a city is one thing, but figuring out what motivates people to live in one is another. Generally speaking, we can equate the popularity of cities with the opportunities they present. Suketu Mehta, writing in the fantastic compendium of essays Shaping Cities (Phaidon, 2018) describes them as "our great mark on the planet...the purest expression of who we are as human beings – the best and worst parts of us".
Architect: Whiting Architects. Photography: Shannon McGrath. Styling: Swee Design. Melbourne, Australia.
Humans prefer "colonies, not caves", Mehta writes, noting that cities, with scale and variety, present opportunities for social connection, employment and entrepreneurism, cultural and community diversity, amenity and entertainment.
Architect: Liz Walsh and Alex Nielsen. Photography: Sean Fennessy. Tasmania, Australia.
What's the plan?
Cities are growing fast, but the world has seen rapid urban growth before, responding with new urban planning and architectural concepts for housing and connecting people.
In ancient Greece, the answer to city growth was a system of grids; proportion was seen as equivalent to beauty. The Garden City movement of the early 1900s proposed self-contained communities – small "smokeless, slum less cities" – with homes, businesses and agriculture surrounded by greenbelts. It was exported around the world. In the modernist apartments of the mid-19th century, organised around radically rethought kitchens with improved hygiene and sanitation, we see a drive for post-war modernisation and renewal.
In today's post-manifesto world, we see many ways to accommodate people, from ranks of cookie-cutter apartment blocks in Seoul, Singaporean 'ground scrapers', luxury apartments in ultra-tall and thin New York skyscrapers (a result of the peculiar ability to purchase "air rights" from adjacent properties). At city scale, however, the predominant trend is to become smarter and greener, with micro mobility, electrification and car-free zones common themes. California's ambitious goal of using 100% zero-carbon electricity by 2045 is driving innovation, while San Jose is the largest city in the US to ban natural gas infrastructure from many new residential buildings.
It's not about how fast you can go
Also growing in popularity is the idea of the 15-minute city concept, which recognises that maybe we've been focused too much on speed and not enough on access. Enjoying life is not about getting from point A to point B quickly, it's about being able to easily visit grocery stores, or get to school, or go to a cafe or gym.
It's a deviation from the accepted city planning approach of previous decades; that is, you can live anywhere you want, and the city will build the infrastructure to move you to where you need to be.
However, as travel distances increase in tandem with commuter numbers, life becomes more complicated, not less – which is why Sorbonne professor Carlos Moreno proposed the "ville du quart d'heure", or quarter-hour city, to Paris mayor Anne Hidalgo. The benefits of the 15-minute city include more self-sufficient communities within each arrondissement of the French capital, the ecological benefits that result from a move away from the "oil-era priorities of roads and car ownership", and a reduction in the stress and anxiety of city life.
As a concept, it's not new – Melbourne has developed 20-minute neighbourhoods with schools, parks and other amenities within a 20-minute walk, bike ride or public transport commute. Detroit's 20-minute city is based on its defunct streetcar grid. Copenhagen in Denmark and Utrecht in the Netherlands have both introduced "hyper proximity" to meet the needs of city dwellers.
Architect: Breathe Architecture. Photography: Shannon McGrath. Melbourne, Australia.
Architect: Breathe Architecture. Photography: Shannon McGrath. Melbourne, Australia.
In the urban realm, there are increasing attempts to stitch more greenspaces into existing infrastructure. New York's Highline is the obvious success story, so too is Seoul's conversion of an extant motorway overpass into a pedestrian "sky garden" and Auckland's "pink cycleway". Hamburg's HafenCity, the largest urban redevelopment project in Europe, represents the wholesale renovation of a heritage port area through carefully integrated old and new buildings, with particular care paid to carefully orchestrated public spaces and an exceptional piece of architecture, the Elbphilharmonie, designed by Herzog & de Meuron.
In cities where we trade space is traded for opportunity, the question is how to maximise the living experience. For us, as product designers, one of the first steps is to amplify the functional and aesthetic beauty of the interior experience – to provide easy for people to celebrate home and to provide more opportunities to personalise intimate space within the greater bustling metropolis.
RELATED ARTICLES
Design for a changing world
Transformation is usually a gradual process, with change usually more obvious across decades rather than years.. read more
4 min read
Our changing relationship with food
Food is sustenance, right? What we need to live. But it's also more than that. It is society defining.. read more
4 min read