Outdated browser detected
You are using an unsupported browser and may not experience the site, or shop online as intended. We recommend you
upgrade
Save up to £200
On selected DishDrawer™ Dishwashers and Fridge Freezers. T&Cs apply.
Latest Covid-19 precautionary measures taken by Fisher & Paykel |
Find out more
Connection+
We will securely connect your Fisher & Paykel appliance to existing power, water and drainage outlets as required.
Free Delivery & Disposal
We will deliver and unbox your appliance, and take the old one away for responsible recycling, free of charge.
Cancellation & Returns
You have the right to cancel your order within 60 days. We'll refund all payments and collect the appliance.
5 year warranty
We stand behind our products, with a 5 year manufacturer's warranty on all Fisher & Paykel appliances.
Promotion
---
Save up to £1000
When you purchase any qualifying appliances in a single transaction from Fisher & Paykel online or in-store from a participating retailer. Purchase before 22 November 2020. Minimum spend levels and T&C's apply.
Find out more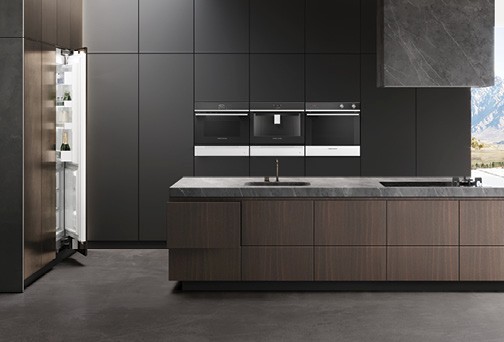 The Beauty of Choice
---
We understand that kitchen perfection means different things to different people. Discover appliances designed in four beautiful styles - Contemporary, Classic, Integrated and Minimal.
Cook with confidence
---
Our new touchscreen built-in ovens provide an intuitive guided cooking experience. Whether you've been cooking all your life or just starting out, you can cook with a favourite method, a hero ingredient, or a go-to cooking function or recipe.
Curate and showcase your collection
---
Taking wine care to new levels, Fisher & Paykel's Integrated Column Wine Cabinet is the key to creating a wine collector's ultimate kitchen. Designed to display your collection beautifully, it matches and enhances your kitchen aesthetic.
Kitchen companions now available in black
---
Achieve a subtle, sophisticated aesthetic with the new Black Companion Products. The collection - Combination Steam Oven, Combination Microwave Oven, and Coffee Maker offer flexibility in how you cook, and how your kitchen looks.
Love your laundry
---
Our washers are beautiful to use with intuitive controls and optimised settings for complete fabric care. SmartDrive™ Technology uses electronic feedback from the direct drive motor to intelligently adjust the wash action.
Service & Repairs now online
---
All appliance services and repairs can now be booked and tracked through our Online Booking Service.